"I cannot live without books."–Thomas Jefferson
---
Want to send us a Book Review? E-mail our Teen Librarian Marissa at
mhall@mplmain.mtpl.org
---
February 2022 Teen Book Reviews
Emma by Jane Austen
4.5/5 stars
Review by Safa. 
Jane Austen's Emma is regarded as a classic for a reason— it's good. Set in England during the early 1800's, this novel takes you back in time and into the whirlwinds of Emma's, the main character's, life. There is something about this book that is so captivating, making it really hard to put it down once begun. The story being told and the lively characters being depicted possess the rare ability to transcend time and changes in the English language, managing to stay relevant and interesting even in this modern age. Sure, the 1800's styles of speaking and writing can be challenging to read and understand, and I definitely found myself having to re-read a few paragraphs; however, once you get used to it, it's clear that this language actually suits and amplifies the story, as the long descriptions and vivid use of punctuation help to stir the imagination and make the story that much more enjoyable. It is also worth mentioning that the plot does take a longer time to unfold than most books, with each activity being explained in detail. Despite that, there is something about even the most mundane of activities that is so enjoyable to read. For example, I actually found myself intrigued by a woman simply talking of her familial connections— something that I would otherwise yawn at. I found that the most interesting part of my reading experience was observing the emotional development of Emma, as she goes about her daily life gossiping, scheming, and interfering in others' social lives. She, who is seemingly untouchable and held to the highest regard by her peers, learns life's lessons from her repeated failure, self-induced catastrophes, and eventual love. From the twists and turns, to the valuable moral lessons gained, this book has it all.
---
May 2021 Teen Book Reviews
The Maze Runner by James Dashner
★★★★
Review by Jackie S.
The dystopian novel "The Maze Runner" by James Dashner was a suspenseful and exciting book that never failed to bore
me. In this book, a boy named Thomas arrives in a fort full of boys his age who don't remember anything about their past lives other than their name. Every month they get another boy, and every so often, they receive food and supplies to help them survive. Outside of the fort, there is a maze full of dangerous Grievers whose sting will give you back memories but may also kill you. For two years, the boys have been trying to find a way out of the Maze and aren't getting anywhere. When the first girl arrives only a day after Thomas, everyone knows that things will change. Throughout the book, the boys try to piece together the clues of why they are here and who is evil enough to do something like this to them while trying to survive.
The book started a little slow, but it picked up very quickly, and the events in the book were amazingly detailed. Detailed descriptions of Thomas's emotions and the Maze's vivid representations made me feel like I was experiencing everything the main character was. Furthermore, I loved almost all of the book's characters and liked how the author included an exciting back story and personality to each character. Some characters were funny, some were emotional, and some were brave. I recommend this book to anyone who wants to dive into a gripping plot.
---
The Scorch Trials by James Dashner
★★★★
Review by Jackie S.
"The Scorch Trials" by James Dashner was an excellent follow-up book to "The Maze Runner" and it definitely delivered. The boys and Teresa found their way back to the real world and were introduced to the people who sent them into the Maze, WICKED, and a whole other group of girls and one boy who seem to have had the same exact experience as them. They soon find out that there is a disease that is infecting the world and is wiping out whole cities. When the group learns more about WICKED's plans for them, they get divided, and it's hard to know who to trust. The characters are put to the test and are forced to go through a scorching hot desert and a very dangerous city to encounter people who are greatly infected with the disease. In this roller coaster of a book, you will see all of the characters get evaluated and tested by WICKED and soon learn why WICKED believes it is all necessary.
Throughout the whole book, the plot was very intriguing and climactic. I never knew what would happen next, which made me want to read even more. My favorite part of the book was how the author described every little detail of an event to correlate with the emotions that are going through Thomas's head. I knew and felt all of his thoughts and emotions throughout the novel. But overall, I liked this book a lot, and it is worth reading after the first book.
The Hate U Give by Angie Thomas 
★★★★★
Review by Allison H.
I will be reviewing the book The Hate U Give by Angie Thomas. I borrowed this book from the Middletown Public Library. I rate this book 5 out of 5 stars. 
Starr Carter is switching between two very different worlds. There is her fancy prep school dominated by privileged white people world and her poor, mostly black neighborhood world where she lives. Starr experiences turmoil in both worlds as she is faced with racism in her school and is seen as an outcast in her home for attending a school filled with privileged mostly white students. Starr, however, is able to keep a balance between her two worlds as she is happy with her boyfriend Chris from her school and she is often seen hanging out with her friends from her neighborhood and her school, but separately of course. One day all of that changes when Starr witnesses her childhood friend being fatally shot by a police officer. This death causes Starr to go on a journey of activism and speaking out about the injustices in the world. Starr uses her voice and her experiences to make a difference in the world. 
This was an amazing book. I myself cannot relate to the struggles that Starr faced, but this book changed my perspective on numerous relevant social issues. The storyline of this book and the topics it touches upon make it a unique yet exceptional book. I recommend that every person read this novel as not only is the plot, storyline, and characters amazing but it is also very informative. Everyone should read this book so that we can have a better understanding of the problems those who are different from us experience. Overall, this was a book that I could not put down and it is definitely one of my favorites. 
---
The Queen of Shadows by Sarah J. Maas
★★★★★
Review by Allison H.
I will be reviewing the book Queen of Shadows by Sarah J. Maas. I borrowed this book from eLibraryNJ. I rate this book 5 out of 5 stars.
Queen of Shadows is the fourth book in Sarah J. Maas' Throne of Glass Series. To read Queen of Shadows you must read the other books first. Celeana Sadorthian has finally accepted herself as her true identity, Aelin Galathynius, Queen of Terrasen. After training for months, Aelin finally has the mental and physical tools needed to take back what is rightfully hers. Aelin plans on defeating the evil that rules her world and takes away everything she has ever loved. As enemies become friends and friends become family, Aelin takes a journey that is sure to alter the course of her world.
This book is absolutely amazing. This is a book that I can see myself reading over and over again as the emotions that the characters feel project onto the reader in a way that I have never experienced before. This book showcases an amazingly fierce Aelin who shows that women can possess both beauty and brawn. Aelin's fighting skills and impeccable strategy make her an enigma that is equally awe-inspiring and enjoyable to read about. Many book series seem to drag on and die out, however, Queen of Shadows is just as good if not even better than the rest of the books in this series. The Throne of Glass Series is one that I enjoy immensely and continue to love even more with each book that I read. Sarah J. Maas is an amazing author and this book is proof of that. I love this book and would recommend it to anyone who loves books full of adventure, friendship, and magic.
---
★★★★
Review by Allison H.
I will be reviewing the book Fangirl by Rainbow Rowell. I borrowed this book from the Middletown Public Library. I rate this book 4 out of 5 stars. 
The novel Fangirl by Rainbow Rowell follows Cath as she navigates a world without her twin sister Wren by her side. Cath and Wren were inseparable growing up and became impossibly closer as they began to share a love of the book series Simon Snow. However, when Cath and Wren go to college, Wren decides to part ways with her twin as she tells Cath they can't be roommates. Cath's life changes completely as now not only is she in college, but she has to learn to live a separate life from her twin. Cath tries to keep up with her classes while staying sane and without Wren, she finds comfort in her beloved Simon Snow books. As Wren and Cath begin to drift, Cath can define herself as her own person and begins to find confidence in herself as one entity. Throughout the process, Cath experiences many ups and downs, meets new people, and the possibility of love becomes closer than ever.
I loved this book! Cath is an amazing character and the fears that she has about the college experience were extremely relatable. As a junior in high school college seems closer than ever and the fears that Cath faces are fears I also experience. Cath and I share many qualities and her responses to situations are similar to how I would react making this a fun and enjoyable read. The characters were extremely fun to follow and the plot of this book while simple was very entertaining. The romance aspect of this novel was wholesome and sweet without being cheesy again making this a wonderful read. Overall, I enjoyed this book immensely and would recommend this novel to everyone.  
 Throne of Glass by Sarah J. Mass Review by Allison H. 
---
November 2019 Teen Book of the Month
I'm Not Dying With You Tonight by Kimberly Jones and Gilly Segal
High schoolers Lena James and Campbell Carlson are not what most people would consider best friends. Lena is African American and a bit rough around the edges. Campbell is white and finding her place at a new school. They unexpectedly befriend each other when a racist incident occurs at their high school football game and results in a riot in the commercial district of town. Lena is pining to reach her unreliable boyfriend, aspiring rapper Black, who is just not that reciprocal about their relationship. Campbell simply wants to go home after working the concession stand on the orders of her dad, who owns the hardware store in town. Their newfound friendship is tested by the riot's effect on the store and the connection Black's friends have with it. Segal and Jones have proven themselves a dynamic duo in crafting this fast-paced, honest, and page-turning YA novel. Lena and Campbell navigate through the tough issues of race, class, and community relations in their own different yet similar voices and perspectives.   VERDICT Librarians will want to purchase this relevant and discussion-worthy YA novel.—Donald Peebles, Brooklyn Public Library  Copyright 2019 School Library Journal.
April/May 2017 Teen Book of the Month
Thirteen Reasons Why by Jay Asher
"With the new Netflix TV series, Thirteen Reasons Why has seen a resurgence in popularity. Following the suicide of his classmate Hannah, Clay receives a package in the mail with cassette tapes. Listening to the tapes, in which Hannah details the 13 reasons why she decided to end her life, will change Clay's life. " -Stephanie, Teen Librarian
  
"13 Reasons Why by Jay Asher is a novel about the life of a boy after his secret crush commits suicide. Personally, I believe this novel does an excellent job of providing awareness of the severity of suicide to a younger audience, while also showing the audience the weight their words may have on others. Although this book is suggested to children 12 and up, I believe the content written in the pages may be too harsh to allow children under the age of 14 to read. However, the message the author portrays is significantly important and I strongly recommend readers to dive into the pages." 
-Review by Maddie, age 16
---
March 2017 Teen Book of the Month
Everything, Everything by Nicola Yoon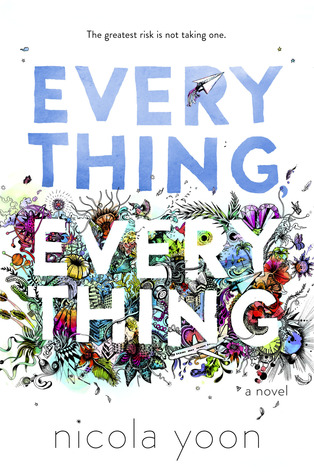 "With the upcoming movie release, a lot of my friends have been encouraging me to pick up the novel Everything, Everything. The book takes place in Los Angeles, where 18-year old Madeline Whittier is forced to stay in her house for her entire life, due to a disease known as SCID. Her world consists of her mom, her nurse, Carla, and her books. It is a very lonely, comfortable, and disconnected life to live. However, when the new neighbors move in next door, including a certain teenage boy by the name of Olly, everything changes. Immediately, Madeline's whole world is thrown out of orbit into another solar system, and her newfound view might cause her to see some new and surprising details from her past world.
Everything about this book was great. The story had a nice plot twist, and I loved the overall flow of the book. It was a quick, but hooking read. The characters were very well-developed, and the way Madeline told her story was excellent. I became very attached to all of the characters, too. I also liked the way the book was composed; the illustrations and the short chapters were nice. The perspective of this novel was so eye-opening, because of how unthought of the main character's inner struggle was. I had never imagined what it would be like living inside my house for the foreseeable future because of some disease, and this left a lasting impression on me. In addition, because it took me a month to actually pick up the book yet four days to read, I came to a realization when I put it down: typical teen romance novels don't have to be extremely cheesy, hence why I don't normally read them. They can be focused on an individual's inner conflict and add love as an accessory to the novel. I encourage anyone who wants to get a reality check on what they should be grateful to have, or in need of a quick, yet powerful read, to pick up the novel Everything, Everything."-Review by Alex, age 16
Check it out at the library!
---
December 2016 Teen Book of the Month
Red Queen by Victoria Aveyard
"Red Queen by Victoria Aveyard is far more than your average teen book. It's a riveting, thrilling ride that leaves you on the edge of your seat from cover to cover. The book's intriguing, original world has complex themes of racial tension, while also featuring standard entertaining elements of romance and rags to riches. Red Queen is set in the country of Norta which is ruled by the Silvers, elite people with supernatural powers and silver blood that rule over the country's work force, the regular human Reds. The protagonist Mare Barrow is born a lowly average Red but the book takes her on a journey that places her in the royal palace and at the center of a Red rebellion, while also discovering her own hidden powers.
The novel is a nonstop ride with entertaining politics, action and humor with a cast of intriguing characters that make Red Queen worth the read. The book has so many diverse themes, anyone would enjoy it. Red Queen is Victoria Aveyard's first novel and there are currently two more books in the series. This novel is definitely worth the read and has great potential for a future franchise. Anyone can enjoy the great action, humor, and adventure this novel takes the reader on."
-Review by Evan, age 17
---
January 2017 Teen Book of the Month
What Light by Jay Asher
"From Jay Asher, #1 New York Times bestselling author of Thirteen Reasons Why, comes a romance that will break your heart, but soon have you believing again. . . 

Sierra's family runs a Christmas tree farm in Oregon—it's a bucolic
setting for a girl to grow up in, except that every year, they pack up
and move to California to set up their Christmas tree lot for the
season. So Sierra lives two lives: her life in Oregon and her life at
Christmas. And leaving one always means missing the other. 
Until this particular Christmas, when Sierra meets Caleb, and one life eclipses the other…
What Light is a love story that's moving and life-affirming and completely unforgettable."
-Review from Goodreads
Check it out at the library!!
---
February 2017 Teen Book of the Month
The Sun is Also a Star by Nicola Yoon

"Natasha believes in science and facts, things she can quantify. Fact: undocumented immigrants in the U.S., her family is being deported to Jamaica in a matter of hours. Daniel's a poet who believes
in love, something that can't be explained. Fact: his parents, Korean
immigrants, expect him to attend an Ivy League school and become an M.D. When
Natasha and Daniel meet, Natasha's understandably distracted—and doesn't want
to be distracted by Daniel. Daniel feels what in Japanese is called koi no yokan, "the feeling when you meet someone that you're going to fall in love with them." The narrative alternates between the pair, their first-person accounts punctuated by musings that include
compelling character histories. Daniel—sure they're meant to be—is determined to get Natasha to fall in love with him (using a scientific list). Meanwhile, Natasha desperately attempts to forestall her family's deportation and, despite herself, begins to fall for sweet, disarmingly earnest Daniel. This could be a sappy, saccharine story of love conquering all, but Yoon's lush prose chronicles an authentic romance that's also a meditation on family, immigration, and fate.With appeal to cynics and romantics alike, this profound exploration of life and love tempers harsh realities with the beauty of hope in a way that is both deeply moving and satisfying."-Review from Kirkus Reviews