"I cannot live without books."–Thomas Jefferson
---
November 2019 Teen Book of the Month
I'm Not Dying With You Tonight by Kimberly Jones and Gilly Segal
High schoolers Lena James and Campbell Carlson are not what most people would consider best friends. Lena is African American and a bit rough around the edges. Campbell is white and finding her place at a new school. They unexpectedly befriend each other when a racist incident occurs at their high school football game and results in a riot in the commercial district of town. Lena is pining to reach her unreliable boyfriend, aspiring rapper Black, who is just not that reciprocal about their relationship. Campbell simply wants to go home after working the concession stand on the orders of her dad, who owns the hardware store in town. Their newfound friendship is tested by the riot's effect on the store and the connection Black's friends have with it. Segal and Jones have proven themselves a dynamic duo in crafting this fast-paced, honest, and page-turning YA novel. Lena and Campbell navigate through the tough issues of race, class, and community relations in their own different yet similar voices and perspectives.   VERDICT Librarians will want to purchase this relevant and discussion-worthy YA novel.—Donald Peebles, Brooklyn Public Library  Copyright 2019 School Library Journal.
April/May 2017 Teen Book of the Month
Thirteen Reasons Why by Jay Asher
"With the new Netflix TV series, Thirteen Reasons Why has seen a resurgence in popularity. Following the suicide of his classmate Hannah, Clay receives a package in the mail with cassette tapes. Listening to the tapes, in which Hannah details the 13 reasons why she decided to end her life, will change Clay's life. " -Stephanie, Teen Librarian
  
"13 Reasons Why by Jay Asher is a novel about the life of a boy after his secret crush commits suicide. Personally, I believe this novel does an excellent job of providing awareness of the severity of suicide to a younger audience, while also showing the audience the weight their words may have on others. Although this book is suggested to children 12 and up, I believe the content written in the pages may be too harsh to allow children under the age of 14 to read. However, the message the author portrays is significantly important and I strongly recommend readers to dive into the pages." 
-Review by Maddie, age 16
---
March 2017 Teen Book of the Month
Everything, Everything by Nicola Yoon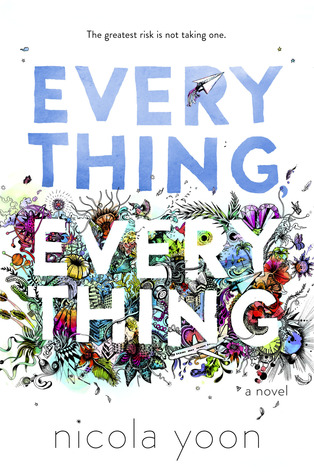 "With the upcoming movie release, a lot of my friends have been encouraging me to pick up the novel Everything, Everything. The book takes place in Los Angeles, where 18-year old Madeline Whittier is forced to stay in her house for her entire life, due to a disease known as SCID. Her world consists of her mom, her nurse, Carla, and her books. It is a very lonely, comfortable, and disconnected life to live. However, when the new neighbors move in next door, including a certain teenage boy by the name of Olly, everything changes. Immediately, Madeline's whole world is thrown out of orbit into another solar system, and her newfound view might cause her to see some new and surprising details from her past world.
Everything about this book was great. The story had a nice plot twist, and I loved the overall flow of the book. It was a quick, but hooking read. The characters were very well-developed, and the way Madeline told her story was excellent. I became very attached to all of the characters, too. I also liked the way the book was composed; the illustrations and the short chapters were nice. The perspective of this novel was so eye-opening, because of how unthought of the main character's inner struggle was. I had never imagined what it would be like living inside my house for the foreseeable future because of some disease, and this left a lasting impression on me. In addition, because it took me a month to actually pick up the book yet four 
days to read, I came to a realization when I put it down: typical teen romance novels don't have to be extremely cheesy, hence why I don't normally read 
them. They can be focused on an individual's inner conflict and add love as an accessory to the novel. I encourage anyone who wants to get a reality check on what they should be grateful to have, or in need of a quick, yet powerful read, to pick up the novel Everything, Everything."
-Review by Alex, age 16
Check it out at the library!
---
December 2016 Teen Book of the Month
Red Queen by Victoria Aveyard
"Red Queen by Victoria Aveyard is far more than your average teen book. It's a riveting, thrilling ride that leaves you on the edge of your seat from cover to cover. The book's intriguing, original world has complex themes of racial tension, while also featuring standard entertaining elements of romance and rags to riches. Red Queen is set in the country of Norta which is ruled by the Silvers, elite people with supernatural powers and silver blood that rule over the country's work force, the regular human Reds. The protagonist Mare Barrow is born a lowly average Red but the book takes her on a journey that places her in the royal palace and at the center of a Red rebellion, while also discovering her own hidden powers.
The novel is a nonstop ride with entertaining politics, action and humor with a cast of intriguing characters that make Red Queen worth the read. The book has so many diverse themes, anyone would enjoy it. Red Queen is Victoria Aveyard's first novel and there are currently two more books in the series. This novel is definitely worth the read and has great potential for a future franchise. Anyone can enjoy the great action, humor, and adventure this novel takes the reader on."
-Review by Evan, age 17
Check it out at the library!!
---
January 2017 Teen Book of the Month
What Light by Jay Asher
"From Jay Asher, #1 New York Times bestselling author of Thirteen Reasons Why, comes a romance that will break your heart, but soon have you believing again. . . 

Sierra's family runs a Christmas tree farm in Oregon—it's a bucolic
setting for a girl to grow up in, except that every year, they pack up
and move to California to set up their Christmas tree lot for the
season. So Sierra lives two lives: her life in Oregon and her life at
Christmas. And leaving one always means missing the other. 
Until this particular Christmas, when Sierra meets Caleb, and one life eclipses the other…
What Light is a love story that's moving and life-affirming and completely unforgettable."
-Review from Goodreads
Check it out at the library!!
---
February 2017 Teen Book of the Month
The Sun is Also a Star by Nicola Yoon
"Natasha believes in science and facts, 
things she can quantify. Fact: undocumented immigrants in the U.S., her family 
is being deported to Jamaica in a matter of hours. Daniel's a poet who believes
in love, something that can't be explained. Fact: his parents, Korean
immigrants, expect him to attend an Ivy League school and become an M.D. When
Natasha and Daniel meet, Natasha's understandably distracted—and doesn't want
to be distracted by Daniel. Daniel feels what in Japanese is called koi no yokan, "the feeling when you meet 
someone that you're going to fall in love with them." The narrative alternates between 
the pair, their first-person accounts punctuated by musings that include
compelling character histories. Daniel—sure they're meant to be—is determined 
to get Natasha to fall in love with him (using a scientific list). Meanwhile, 
Natasha desperately attempts to forestall her family's deportation and, despite 
herself, begins to fall for sweet, disarmingly earnest Daniel. This could be a 
sappy, saccharine story of love conquering all, but Yoon's lush prose 
chronicles an authentic romance that's also a meditation on family, 
immigration, and fate.
With appeal to cynics and romantics alike, this 
profound exploration of life and love tempers harsh realities with the beauty 
of hope in a way that is both deeply moving and satisfying."
-Review from Kirkus Reviews
Check it out at the library!!